Hello!
Welcome to DYRAMON'S web home away from home! He's one of my Dreamies and I'm so glad to have him. Let's just appreciate the beauty of Oranges and the strength of DYRAMON.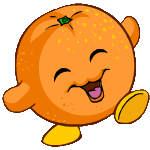 I adopted DYRAMON from the pound years ago when I came back to Neopets as a teenager. He was a green Grundo at the time. At some point I fed him a Magical Chia Pop and got a Beautiful Orange Boy. I'm pretty sure during my attempts to acquire it someone blocked me because I made a bad trade offer.

Fuck that Guy.

Yeah so I forgot what I was going to put in this div but it really balances the page I think so
Have somemore Oranges.